Using a Ruby Class To Write Functional Code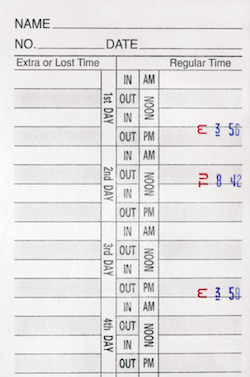 The time sheets I used at my first programming
job in the Summer of 1986 looked just like this.
Recently I've been spending some of my free time studying Clojure and Haskell. I've been learning how a program built with a series of small, pure functions can be very robust and maintainable. However, I don't want to give up on Ruby. I want to keep the expressiveness, beauty and readability of Ruby, while writing simple functions with no side effects.
But how can this be possible? Unlike functional languages, Ruby encourages you to hide state inside of objects, and to write functions (methods) that have side effects, modifying an instance variable for example. Isn't using an object oriented language like Ruby, Python, or Java a decision to abandon the benefits of functional programming?
No. In fact, a couple of weeks ago Ruby's object model helped me refactor one confusing function into a series of small simple ones. Today I'll show you what happened, how using a Ruby class helped me write more functional code.